Description
The Personal Statement Blueprint is A Step-by-Step System to Write A Great Application Essay Quickly and Easily
The Personal Statement Blueprint shows you how to write a personal statement essay that your competition wishes they had.
You don't have to have cured cancer to have a great topic, you don't have to be Shakespeare to tell an amazing story, and you don't have to have big bucks to get access to a system that, up until now, was only available to some of the country's wealthiest families.
"Thank you!' is such an understatement for all you have done for us. You have truly been THE BEST! You're the best recommendation I have EVER been given. Thanks so so much, D!"

E.J. Austin, TX
Here Are A Few of the Amazing Features of the Personal Statement Blueprint:
Find Your Perfect Topic
Most of my students come to me worried sick that they don't have anything amazing to write about. Maybe you are stumped because you have not won the Nobel Peace Prize. Or you have not traveled down the Nile River on a paddle boat for 3 months and lived off of the land. Perhaps you have not even been outside of your town. Don't worry, you do have something amazing to write about…YOU.
I will show you exactly how to find something unique to say, quickly and easily. Module One of the Personal Statement Blueprint takes you step-by-step through my simple, yet effective techniques to find something personal and unique for you to share…no matter what your life experiences are.
Learn What You Should and Should NOT Write About
Discover the mistakes that many of your friends are making right now when choosing what to write about for their application essay. I help you steer clear of taboo topics and help you find your perfect topic in only a few steps.
Grab Their Attention
Learn how to grab your readers' attention and make them identify with you right from the start. They will be knee-deep in your story before they knew what hit them.
Not Your Ordinary Format
Most of my students don't know how they should format their personal statement. I not only show you how not to format it, but how to format your essay for maximum impact.
Give Admissions Officers Something to Remember You By
What your competition doesn't know can hurt them the most! Most students will never figure out how they can elevate their application essay to the point that they stand-out. Admissions officers hear many of the same (or very similar) stories every day. I show you exactly what they don't want to hear and help you focus on writing an essay that is not only unique, but captures the admissions officers' interest. You will see that my system makes all of this easy as you follow along step-by-step.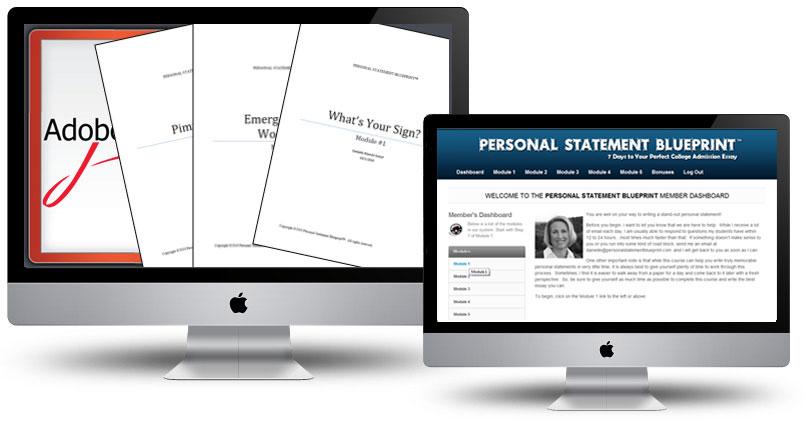 Show Don't Tell
Now that we have their attention, learn how to keep their attention while you show them exactly what you want them to know about you. Many students don't understand the importance of SHOWING the reader rather than telling them.
Seize Your Opportunity
While many colleges don't offer the opportunity to interview, the personal statement is really your best (or only!) opportunity to show the admissions officers something personal that YOU want them to know.
Avoid Common Mistakes
Don't make the mistakes that plague other applicants each year. Using the Personal Statement Blueprint's techniques, you will avoid the common mistakes and keep the reader focused on what you want them to remember.

Edit Like A Pro
Once you write your 1st draft, it is time to start the editing process. I take you step-by-step through my personal essay editing process to take your rough draft and make it shine like a star.
Even if you are not Edgar Allan Poe, you will see that writing a great application essay is easy to do…if you have the right tools. With the Personal Statement Blueprint, you will have all of the tools at your disposal whenever you need them.
While starting your essay may be the most difficult part, editing your drafts is probably the most important. I will teach you the "tricks of the trade" and show you how to take your great 1st draft and transform it into a memorable personal statement that stands out from the crowd.
An Eye On Grammar
Grammar is typically an area where most students make plenty of mistakes. It is also something that does not go unnoticed by the admissions officers. I show you the most common mistakes students make and how to avoid them.
Flow Like A River
Readability is an essential part of a great admissions essay. If your essay does not flow or read well, it will be distracting for the reader and difficult to follow. I show you some simple, yet effective techniques to keep your essay easy to read.
Step-by-Step Process
There are many steps in the sometimes tedious editing process. I make this process easy to do with my step-by-step procedures and checklists to make sure that you don't miss a thing.
I wish we had discovered you earlier. That is my only regret. I thought you were so helpful in getting Gxxx to focus in on what she needed to do and your help with writing the essays was invaluable. I have recommended you more than once!
C.M. -Burlingame, CA
Designed to Help Anyone Write A Great Personal Statement
I designed the Personal Statement Blueprint to make every task easy for you. This system has helped students from all skill levels to be able to write amazing essays using simple and easy to follow steps. The blueprint takes you from finding your perfect topic to a well-polished and edited essay in no time. The end result is something that can make the difference between acceptance and denial when you and another student, on paper, look exactly the same.
Helping you to create a stand-out personal statement is my number one priority. I want you to make the most of the Personal Statement Blueprint system, so I'll always take the time to help you if you're struggling with anything. But if you find that it's not for you, you have a full 60 days to let me know and I'll happily refund you in full.
 Here's What You Will Get When You Sign Up For the Personal Statement Blueprint Today…
The Personal Statement Blueprint is a web-based course that is available to you 24 hours a day, 7 days a week. The system consists of video tutorials in which I personally walk you through each step of the course. Some modules include PDF worksheets and checklists that you can view online or print out at home. Each module contains real world examples that show you how some of my past students have progressed through the system from finding their topic, to creating their story, to writing their first draft, and finishing by polishing their essay. If you ever have any questions, you can post them online in the modules or email me directly.
Module #1 Your Perfect Topic – Module #1 is designed to take you from a blank piece of paper to your perfect topic in 4 steps. Each step has one or more videos in which I walk you through each piece of the puzzle.
Module #2 Key Points – Module two gives you all of the tools you need to avoid the common mistakes that most college applicants make on their admissions essays. Once you complete Module #2, you will be way ahead of the game…and your competition.
Module #3 Writing Your Essay – Now that you have a great foundation, it is time to write the first draft of your personal statement. I take you through my proven process to show you how to grab the readers' attention right from the start, make them identify with you, and then leave them with a memorable finish. By the end of Module #3, you will have a great first draft of your application essay that will make you proud.
Module #4 Polishing Your Essay – It is time to take that diamond in the rough essay and turn it into a shining star. In this module you will learn how to edit your essay like a professional. You will learn the tricks of the trade and be able to make simple changes to your essay that will make a huge difference in the eyes of the reader.
You did and amazing job with my niece! You were able to guide her in creating an essay that was reflective of her skills and interests. She has successfully graduated from UC Davis in four years and has just begun a PHd program at UC Davis in her field of interest. Many thanks for your amazing help.
M.L. -Woodside, CA
The complete Personal Statement Blueprint system – Utilize the power of this system to create a memorable personal statement and stand out from your peers.
Over 30 videos and worksheets to walk you step-by-step through the process of creating a great personal statement from start to finish.
Danielle's Proven Techniques – Get Danielle's insight into what college admissions officers want to hear (and more importantly) what they don't want to hear!
Danielle's Supplemental Questionnaire Blueprint – As a BONUS for ordering today, I will include my Supplemental Questionnaire Blueprint to help you apply what you have learned in the Personal Statement Blueprint to your supplemental questions found on the Common Application for each school.
World Class Support – I pride myself on making sure my students always understand what I am teaching them. I usually respond to emails within 12 to 24 hours…and usually much faster than that.